Our first curator is American professional BMX athlete Nigel Sylvester, an ambassador of the brand, who takes us on a ride around Miami.
Nigel was born in Queens, New York, where he learned to do bike stunts as an autodidact, and chose to break the mold of professional BMX riding, forging a different kind of path.
He expresses his passion for cycling through unique digital content of his progressive bike riding. Most notable GO, a digital series of self-produced films chronicling his adventures around the world.
Miami
"NYC is home and will forever be my favorite place to ride, but Miami is great. For this shoot, I got the opportunity to ride and explore various parts of Miami for the first time, which was awesome."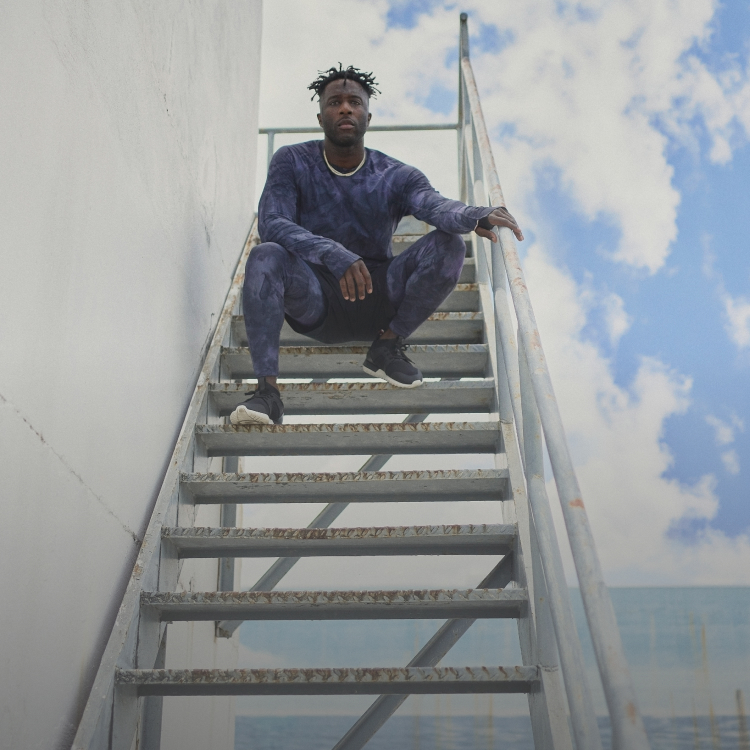 "I enjoy exploring new spots."
Downtown Parking Lot
For the morning hours Nigel chooses the Mornans down vest, jersey leggings under a pair of shorts - all with a tie-dye pattern in shades of purple: an outfit that combines modernity and performance in a perfect compromise.
The transition from his native New York to Miami, gives Nigel a new canvas, to set his creativity in motion. In the mornings, he looks for secluded places where he can start the day by stretching and warming up in an empty car park; he finds the perfect place to experiment in solitude, and watch the city wake up.
The Wynwood Walls
In the afternoon Nigel takes us to the Wynwood, the largest street artist museum in the world. Its huge, ever-evolving murals, and 70 plus galleries are a popular draw for art students. Here, the Mana building is the main venue for artistic expression; a place with a strong emotional connection for the neighborhood, particularly its younger generation.
Last year, Sylvester established the Nigel Sylvester Foundation, as a way to connect with communities around the world through cycling, and transform the lives of disadvantaged youth.
"I am lucky to have a great support system; my family and friends are the pillars of my life; they inspire and motivate me and, most importantly, keep me balanced. The Nigel Sylvester Foundation is my way of giving back the good fortune I have had."
Fashion and style play an important role in Nigel's everyday life, and act as a kind of uniform for his sport: «Clothing is a means of expression, to communicate a story and a feeling,» he says. In the afternoon, looking for comfort on longer runs, he chooses the Barcena short down jacket, the Amak down vest, and a zip-up hoodie and matching shorts.
The Glass House
The Glass House is an ideal place to try new tricks: with a drained pool and flights of stairs to jump. A deserted and abandoned space, that might once have been a symbol of decadence, becomes a place of freedom and experimentation to the BMXer. Here, Nigel can practice endlessly and without interruption.
"I have built my career by committing, working hard, and sacrificing for what I believe in. Falls and failures are part of this process, the goal is to keep winning."
As temperatures drop, the perfect outfit for outdoor activities consists of the Vorde vest, fleece shorts, a t-shirt and Lunarove trainers. The result is a sleek aesthetic that does not compromise on functionality.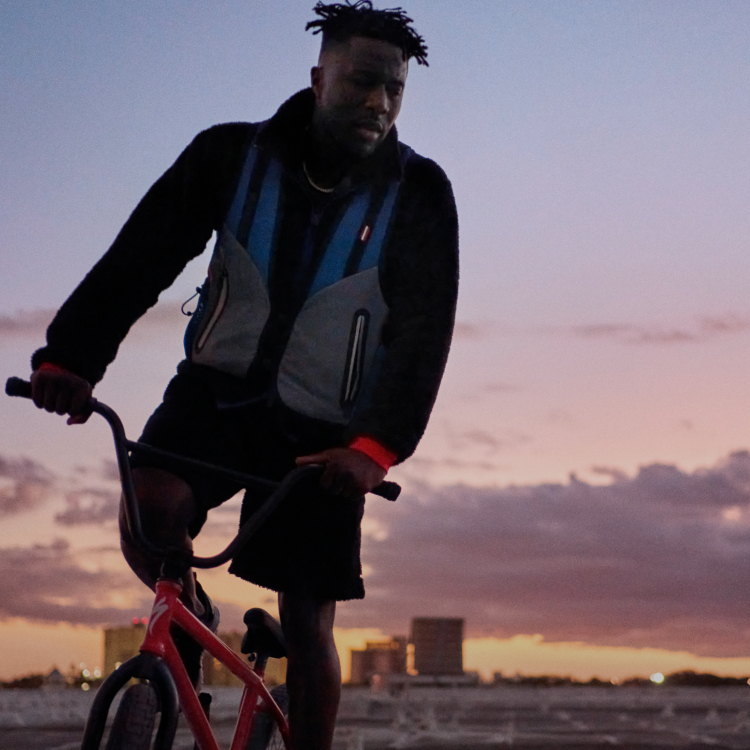 "For me, BMX riding is love."
Looks Curated by Nigel Sylvester
Look 1
Nigel rides in fitted designs that support a full range of movement.
Shop the look
Look 2
On longer runs Nigel opts for the Barcena down jacket to protect from the chill.
Shop the look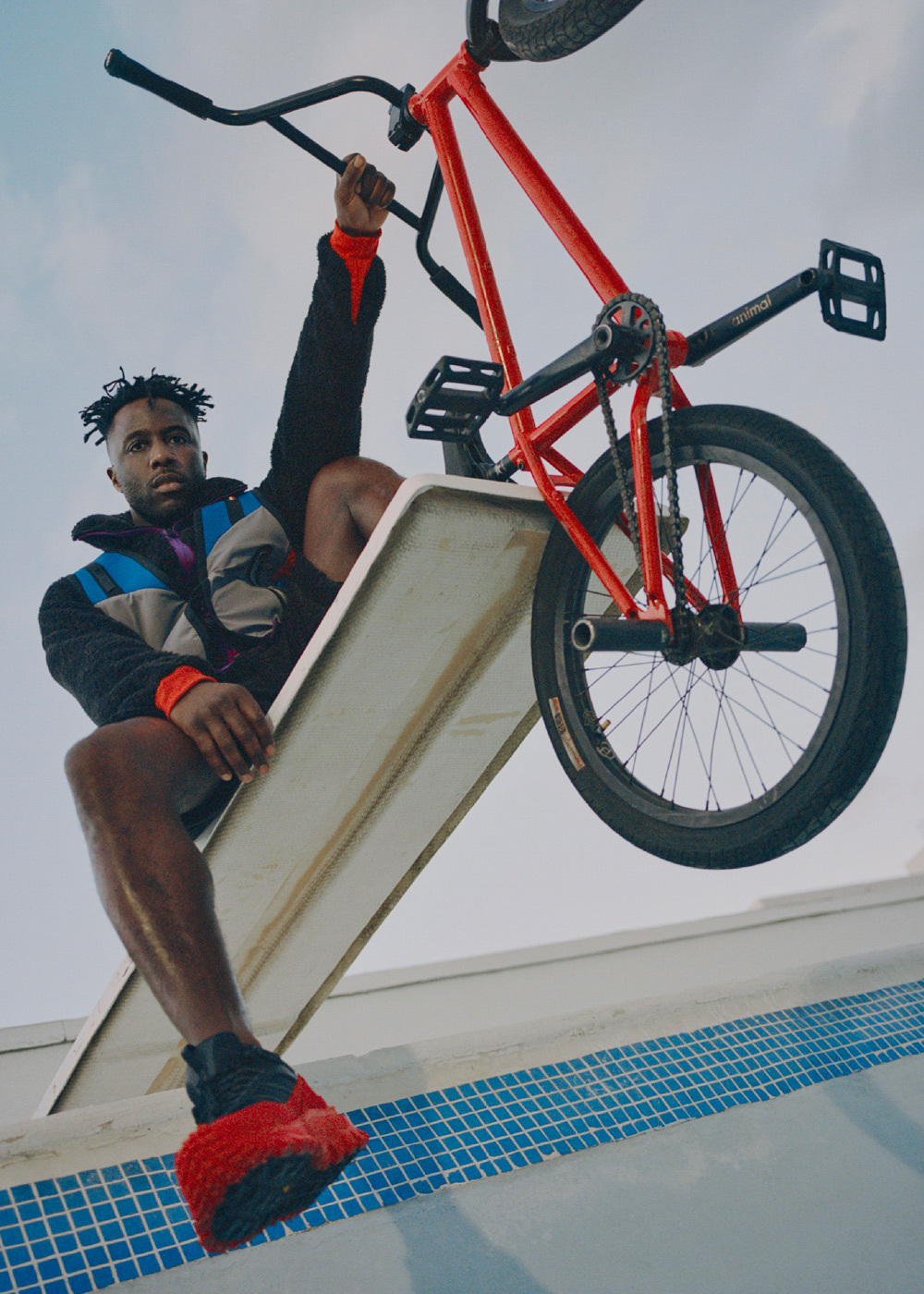 Look 3